It's no secret that we're big fans of Electric Forest which goes down every year in Rothbury, Michigan. We've been long-time supporters of the magical music festival and just recently highlighted some of the event's best back-to-back performances over the years, including a few from our signature TSIS secret sets that we've had the pleasure of throwing each year.
In 2012, we hosted the first-ever Big Grizmatik set featuring Big Gigantic, GRiZ and Gramatik. Last year's addition showcased the epic back-to-back-to-back between Skrillex, SNAILS, Datsik, 12th Planet and more.
However, 2016 holds a special honor. In addition to our 'Meet and Greet' booth, the festival's organizers provided TSIS its first official slot on the schedule and app, truly cementing the set. As the clock struck 1:00am on Friday night (technically Saturday morning) at the relatively intimate Observatory stage in the Forest, a sea of people gathered. 
The hype was real as countless attendees jumped up and down to sneak a peak at who the night's performers would be. Rumors had spread throughout the weeks prior with names such as Pretty Lights, Big Grizmatik and others being tossed around, but no one knew what was in store.
The crowd went as far back as the eye could see and the elbow-to-elbow audience somehow managed to get larger with even greater energy. It was a truly an unbelievable sight. The stage was planted in the thick of the forest, looking over the crowd and a large balcony structure that was separated into three parts and two levels.
To kick off the night, Brillz and long-time TSIS Secret Set performer 12th planet (who may need to become the first ever secret set resident) took the stage in front of a roaring audience. The two did not hold back kicking the set off with banger after banger.
Next up, a wild Mija appeared from the side stage and the crowd simply lost it as she hopped into the back-to-back barrage. There was even a point in the set where 12th Planet and Brillz were literally praying to her as she was mixing. Mayhem soon rose as NGHTMRE joined the budding supergroup and hoards of fans somehow continued to pile inward, almost getting to a mildly scary point, as it already seemed over capacity when the set began.
As our final guest GRiZ was getting ready to hop on the decks, the crowd was getting over capacity and had to shut down a tad earlier than planned to make sure safety came first. 
12th Planet gave a proper shout out to TSIS' final mystery guest, GRiZ, as he stepped onstage to thank everyone for coming out (although he wasn't able to join in on the back-to-back festivities). 
To lift the night vibes on Saturday, we threw a party until sunrise in the Good Life camping area that featured Anna Lunoe, AC Slater and Justin Martin going back-to-back before leading into Louis the Child, Getter, Cherub, Win & Woo and more. 
We are working with Electric Forest to come back next year in an even bigger way…maybe even a secret stage? Thanks to everyone that made it out and we can't wait until next year!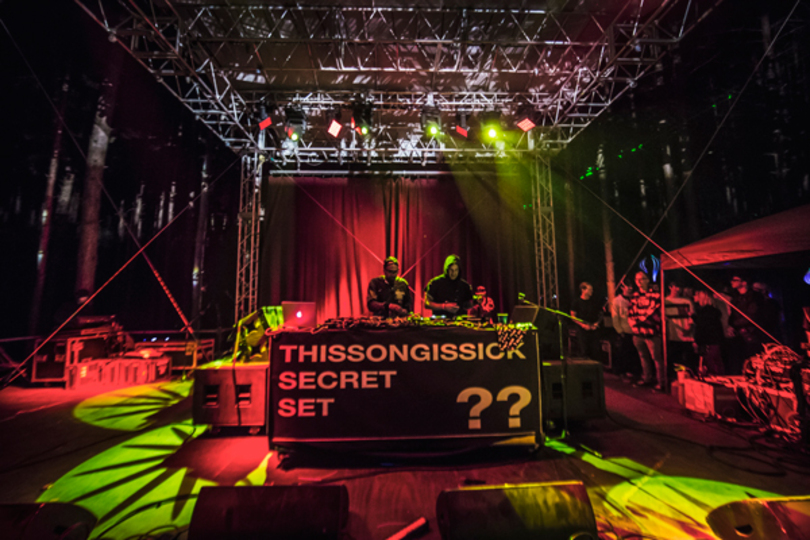 Receive our recap of the best content weekly right in your email, Subscribe NOW