The mysteria and sheer hype that will forever surround Daft Punk is unlike anything else. There seems to be another mystery to solve as we approach the release of the Random Access Memories 10th Anniversary Edition later this week.

Daft Punk have slowly given us a taste of the unreleased demos and recordings from the album. It's only natural for us to listen to the album as we prepare for the release but what now has the internet up in arms is there are now hidden coordinates in their Spotify tracks.

Nearly every song on Spotify's Random Access Memories contains some kind of secret message within the visualizer. They all start out with the message "May 11th, 10 AM" that are then followed by different coordinates. These coordinates point to various cities around the world including NYC, Paris, Tokyo, Santa Monica, London, Buenos Aires, Mexico City, and more.

This mysterious phenomenon has Daft Punk fans speculating about the meaning of the coordinates. Could it be a series of pop-up shops? A listening/launch party? A music video idea? Could it even somehow be a live performance of some kind? Whatever the case, there's no denying the iconic duo's exceptional ability to get people excited.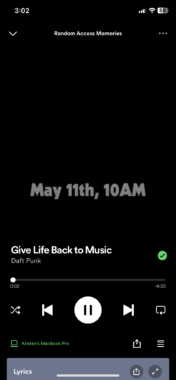 Receive our recap of the best content weekly right in your email, Subscribe NOW