When I was given the opportunity to go party in a tropical jungle, I had a general idea of what to expect… but those expectations were nothing compared to what Day Zero had to offer. I couldn't believe my eyes at some of the things I was seeing: Funktion-One speakers literally tied to trees, traditional Mayan dancers wielding enormous amounts of fire, caves that you could swim in with projection mapped lights inside; my mind was being blown at every turn.
Few do it as properly as Damian Lazarus's curated Day Zero event. Although he recently held a version of this event in Israel, Day Zero's original, flagship location takes place in the Mayan jungle of Tulum, Mexico. It started back in 2012 as a celebration of a new era (remember when the world was supposed to end?), and has been chugging along as one of Tulum's most coveted musical events ever since.
Every January after the new year, Tulum becomes one of the hottest international destinations for house and techno. Some of the biggest and most talented DJs in the world flock to the coast of Mexico to throw down sets in the tropical climate, serving as not only a personal escape from cold weather, but to be a part of some of the stacked events that take place in Tulum this time of year. Just in the days that preceded this particular event, artists such as Solomun, Maceo Plex, Tale Of Us and dozens more played shows in and around Tulum. The scene around this time of year is lush. Out of all these wild, exotic events, Day Zero is the cream of the crop, and I couldn't have been more stoked to attend this year for my first time.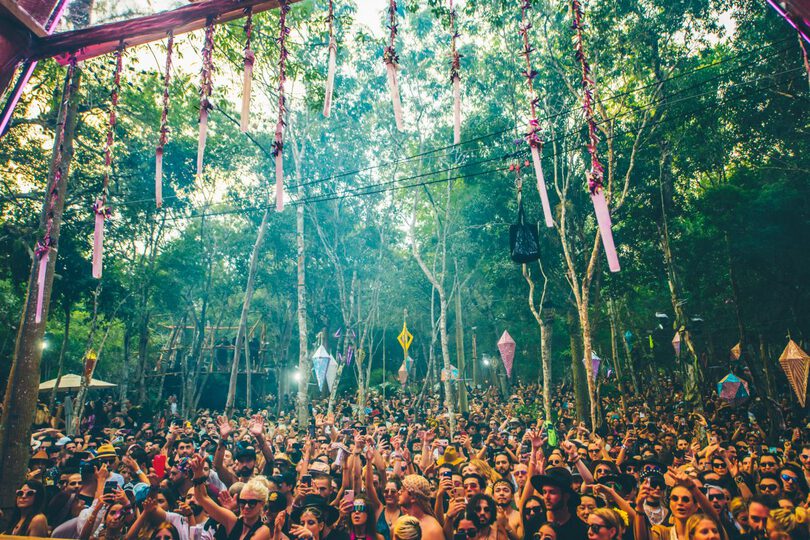 I was awe-struck by this festival from the moment we got off our shuttle into the jungle. Attendees met at a baseball field, about a 20-minute cab ride from downtown Tulum, checked in, and then got on a bus that took us deep into the trees. Once we arrived at the heart of Cenote Dos Ojos, it felt like we had stepped through a portal that sanctioned us off from the rest of civilization. The entire site is populated by thousands of skinny trees that you're constantly dodging while navigating around. While some may consider this a minor inconvenience, I adored how much of the land that Day Zero incorporated into their production.
The main stage design took the form of a pyramid of versatile lights, and was an absolute spectacle from start to finish. Not only were the lights and lasers extremely impressive, but dozens of local and traditional dancers had a platform right in front of the the DJ, and were able to fully integrate themselves into the performance. I rarely had the chance to take myself out of the moment. I was fully immersed and I was loving every second of it.
This year, in addition to the consistently incredible main stage, Day Zero brought back The Club stage:
Our dream for creating a second stage at Day Zero was to build an alternative space to the Main area that would give you the impression of being inside a club whilst being outside in the open air of the Mayan jungle. The vibe inside last year was truly incredible and this year we have made some very special adjustments that will blow your mind.
I had spent most of the first half of Day Zero at the main stage, losing my mind to sets by Romanian minimal overlord Priku, melodic mastermind &ME, and South African afro-house wizard Black Coffee, but the crowd was getting thick. It was around 3:00am at this point (with still 9 hours left to go), so I decided it was time get some food, rest a little bit, and then plant myself over at the The Club stage.
With superstars like Luciano and Damian Lazarus getting prepared to takeover the main stage, The Club offered a much more spacious setting at the time. This area was significantly smaller than where I had just came from, but the vibes were directly on point. The Club lineup was curated with higher energy DJs, and with lighting rods that extended over our heads from the DJ booth, it truly felt like you were inside and outside at the same time. They even had flat dancefloor areas positioned throughout that lit up with bright neon lights, creating a wild juxtaposition with the forest floor that also saved your feet and back.
It was here that I spent the remainder of the festival. At this point, my energy was all but sapped, but the music being pumped out by Ellen Allien, Serge Devant, and finally Dubfire kept me alive until the bitter end. I had successfully stayed within festival grounds from 6:00pm to 11:00am the next day, and it was time make the journey out of the jungle and back into society. The ride home was actually painless. The shuttles were fully air-conditioned and the debauchery from worn-out partygoers onboard was hilarious.
After getting back home, I was simply unable to peel my mind off how epic the entire experience was. The production was completely over-the-top in the best way possible, the sound was loud and full, the location was out of this world, and I was able to witness some of my favorite sets I had ever seen (Priku, &ME and Serge Devant were my top 3).
Of course, each festival has its downsides. At times I was simply overwhelmed with the amount of people in attendance. I skipped out on some of the biggest acts in exchange for more space over at The Club, but this allowed me to catch some pretty incredible sets I perhaps wouldn't have seen. It also would have been nice to have actual set times. Damian Lazarus made a social post about the chronological order of DJs playing, but without specificity, and it was a bit confusing on why he wouldn't just let people know when exactly the DJs were performing.
Over the course of my career, I can't tell you how many large scale music events I've been to, but I can say, without a doubt, that Day Zero was one of the most amazing experiences I've ever been a part of. I was ogling over the whole affair the entire time I was there, and much of my interaction with the other attendees was commenting how fascinated we were. I may have been at Day Zero for a total of 17 hours, but the whole thing felt like one singular moment.
I can't wait to go back.
Receive our recap of the best content weekly right in your email, Subscribe NOW